| | |
| --- | --- |
| BUILD A DIY SOLAR PANEL LAMINATOR | Share this page with your friends: |
---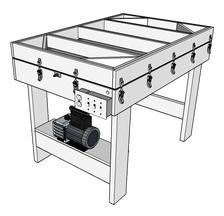 Making your own solar panels is a rewarding experience that gives you a sense of freedom and accomplishment, as well as cost savings. But making your own panels look indistinguishable from a professionally manufactured product has been tricky - until now.



This panel laminator was designed to seal photovoltaic cells between layers of EVA film and glass, and produce a perfect, bubble free encapsulation that will last for decades. It accomplishes this by creating a vacuum in the panel before heating the panel up to 100°C to sufficiently melt the EVA film around the cells. No more standing over a panel for two hours with a heat gun for 'okay' results. Once the heat is on, all you have to do is set a timer and find something else to do for an hour. If you're building a large system, that means you can be tabbing cells and cooking panels at the same time to get the project done a whole lot faster.

​A step by step build guide with detailed drawings and an editable 3D CAD for this project are available for purchase below.
(
Google Sketchup is required to view/edit the CAD
)​
Build Guide & 3D CAD Preview
---

Laminator Spec's

Power:

120VAC, 1100-1500 watts

​Dimensions:

51"x34"x38" (LxWxH)

Capacity:

28 cell panel or smaller

Operating temperature:

80-150°C

Vacuum:

5 Pa (0.05 mbar)

Cook time:

~1 hr

---

Purchase Details

File download includes:
​
> tool & material list (.pdf)

> detailed drawings (.pdf)

> step by step instructions w/graphics (.pdf)

> editable 3D CAD

​(.skp)

Please note before purchasing:

transactions are processed securely through Paypal. No account is necessary. Once your order has been processed, download links for your new files will be sent manually to the email that you have registered with Paypal or your credit card company. If you don't use that email regularly or would like to make other payment arrangements then please

contact me

directly first. Thank you.