| | |
| --- | --- |
| BUILD A DIY FOAM PROCESSOR | Share this page with your friends: |
---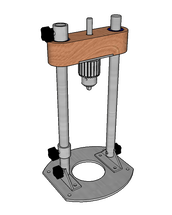 No one likes to throw money away. As builders, we're always looking for ways to limit material waste and project costs. The processor detailed in this build guide is designed specifically for mulching scrap foam insulation board of all types, from expanded polystyrene to foil backed polyisocyanurate, but can also mulch scrap foam packaging if it is pre-cut to fit in the processor. The end product, which is basically small ¼-½" foam 'chips', can be easily bagged and stored for later use such as for loose fill insulation where applicable, or with the right equipment it can be further processed into plastic materials.
For a builder, this processor opens a new door to efficiently turning waste into a useable product while reducing debris disposal costs as well as their ecological footprint.

​A step by step build guide with detailed drawings and an editable 3D CAD for this project are available for purchase below.
(
Google Sketchup is required to view/edit the CAD
)​
Build Guide & 3D CAD Preview
---
Processor Spec's

Power:

120VAC, 1500 watts

​Dimensions:

30"x30"x11" (LxWxH)

Rotor:

12"x3", 38 teeth

RPM:

~3400

---

Purchase Details

File download includes:

> tool & material list (.pdf)

> detailed drawings (.pdf)

> step by step instructions w/graphics (.pdf)

> editable 3D CAD

​(.skp)

Please note before purchasing:

all transactions are processed through Paypal including major credit cards, no account is necessary. After your payment has processed, a download file for both the build guide and 3D CAD will be sent to the email that you have registered with Paypal. If you don't use that email regularly or if you're paying with a credit card then please leave instructions for me with an active email address when you check out, or

contact me directly

first to make other arrangements.

​​​​