| | |
| --- | --- |
| BUILD A DIY STATOR COIL WINDER | Share this page with your friends: |
---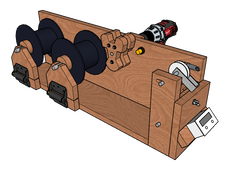 This is not your average DIY coil winder. This winder includes features that eliminate the frustrations that are often involved with winding your own coils by hand.

Using a drill to drive the winder offers the 'hands-free' ability to hold the winder in any particular position during operation. If, for example, you need both hands to adjust the wire part way through winding, that's not a problem with this jig (most modern drills won't turn in reverse if they're switched to turn in the forward position and vice versa, which is what you'll want for this project - check your drill to be sure).
The wire lock located between the two guide pulleys allows the user to lock the wire(s) in place to keep it from unraveling back onto the spool when being cut. The wire lock can also be used to add a bit more drag on the wire and help control the drill speed if necessary.
The spring loaded spool supports lightly squeeze the spools within the frame to keep them from spinning out of control, and the upper spring loaded pulley shaft helps to keep the wire tight on the winder as it's being cut. With this jig properly tuned, all you need to do is pull the trigger and guide the wire.

The winder specifically featured in this build is shaped for making coils for an axial flux PMG, but you can easily use the same techniques to make a winder with nearly any shape needed.
​A step by step build guide with detailed dimensional drawings and an editable 3D CAD for this project are available for purchase below.


(
Google Sketchup is required to view/edit the CAD
)​
---
Build Video

Winder Spec's

Overall height dimensions:

12.5"*29"*9" (W*L*H)

Power:

electric cordless drill

Spool capacity:

up to two @ ~10lb

RPM:

user defined

Counter:

digital, 0-99999

Wire gauge limit:

up to 14 awg

---

Purchase Details

File download includes:
​
> tool & material list (.pdf)

> detailed dimensional drawings (.pdf)

> step by step instructions w/graphics (.pdf)

> editable 3D CAD

​(.skp)

Please note before purchasing:

transactions are processed securely through Paypal. No account is necessary. Once your order has been processed, download links for your new files will be sent manually to the email that you have registered with Paypal or your credit card company. If you don't use that email regularly or would like to make other payment arrangements then please

contact me

directly first. Thank you.