BUILD A DIY 600W ALUMINIUM SOLAR SPACE HEATER
---
| | |
| --- | --- |
| Share this page with your friends: | |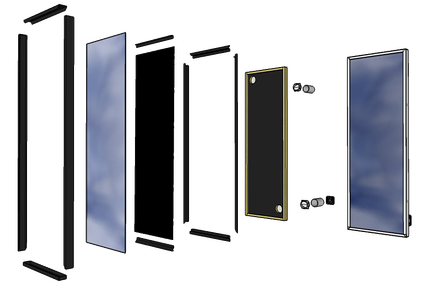 Solar space (air) heaters are one of the most cost efficient ways to utilise solar energy because they employ fewer and more affordable components to harness more energy compared to other methods, and almost anyone can build them. Solar space heaters are also one of the most energy efficient supplemental heat sources of any kind. Even the simplest designs will have a COP (coefficient of performance) of at least 50 or higher, meaning they can generate at least 50 times more energy than what it takes for electricity to operate the heater's components. To help put that in perspective, a cold climate air source heat pump will only have a COP rating of 4, at best. To learn more about calculating heat energy production from a solar heater, visit:
​
http://resystech.com/solar-air-heating-math.html
This solar space heater design is unlike any other that you'll find in the DIY world. It consists of a lightweight but rigid polyisocyanurate core in an aluminium frame to facilitate easy handling during installation, significantly decrease the static load on structural supports compared to other wooden or steel heaters, and increase the longevity of the heater itself. The exterior facade is maintenance free, and the interior is fully serviceable.
​
If you're interested in learning how to build this heater, check out the build videos below. A PDF guide for building this project is available for download which includes plans/drawings, detailed step by step instructions with graphics, as well as a 3D CAD (
Google Sketchup is required to view/edit the CAD
).
​
Bending the aluminium trim pieces:

Assembling the heater:

Preview of PDF Guide & 3D CAD

---

Solar Heater Spec's

Heat out: 2000 btu (600 W)
Electrical power in: ~10 W
COP(coefficient of performance): 60
Heating capacity: 100-200 sq.ft., climate dependant
Dimensions: 24" x 72" x 2.25"
Collector area: ~12 sq.ft
Duct: 4" dia.
Fan: 35 cfm/0.5"H2O stat. press.
Fan control: KSD301 N.O. 45°C snap switch thermostat

---

Purchase Details

File download includes:

> tool & material list (.pdf)

> detailed drawings (.pdf)

> step by step instructions w/graphics (.pdf)

> editable 3D CAD

​(.skp)

Please note before purchasing:

all transactions are processed through Paypal including major credit cards, no account is necessary. After your payment has processed, a download file for both the build guide and 3D CAD will be sent to the email that you have registered with Paypal. If you don't use that email regularly or if you're paying with a credit card then please leave instructions for me with an active email address when you check out, or

contact me directly

first to make other arrangements.

​​​